PORT ISAAC
An inspiration for artists, writers, and poets for centuries, this is one of the most beautiful and unspoilt parts of Cornwall.
A wildlife haven of purple, green, and gold valleys sloping down to a stark wave-lashed coastline of rugged cliffs and secluded coves that can be explored from the coastal footpath.
PORT ISAAC IS OLD CORNWALL AT ITS BEST
A 700-year old fishing village and outstanding conservation area.
Enjoy a visit to Port Isaac, an accessible haven - in both senses of the word and a rare find in the bustle and stress of our modern world! Hidden in a fold among the steep cliffs and a well-kept secret among its devotees, the village has been welcoming tourists for years but has stubbornly refused to change and still retains its old Cornish character.
The narrow lanes with whitewashed stone cottages wind down to the harbour - the centre of the village and a peaceful spot to while away the time and watch the world go by - but when the fishing boats come in and the catch is landed, this is a hive of activity.
PORT GAVERNE & PORT QUIN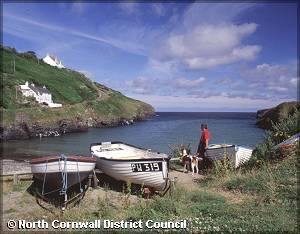 Port Gaverne
Port Gaverne, sister cove to Port Isaac, where slate was shipped out, and all kinds of merchandise landed for local use, is now a quiet hamlet with a quiet, sheltered beach and green headlands.
A few miles to the west is Port Quin, steeped in local legend - a storm once taking most of its menfolk so the village was deserted. Today it is largely owned and preserved by The National Trust. The cottages are let for holidays.
NOT FAR AWAY
Other nearby places to visit include the legendary King Arthur's Castle at Tintagel, Boscastle with its picturesque harbour, the lively fishing port of Padstow, and the wide open expanses of Bodmin Moor.