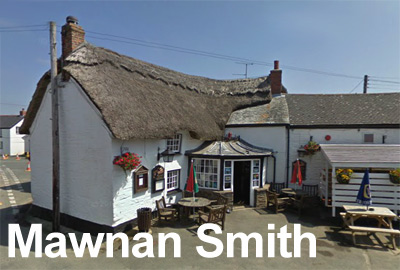 The Red Lion Thatched Inn - Mawnan Smith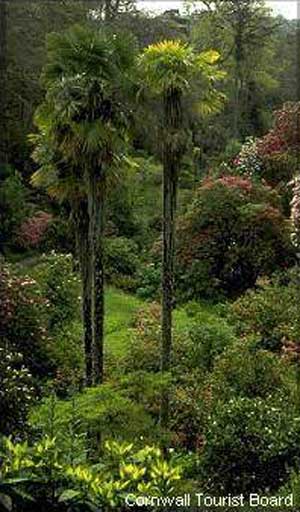 Mawnan Smith
Mawnan Smith on the northern banks of the Helford estuary is a great base to explore all of west and central Cornwall.
Mawnan Smith is a small village with a popular 17th Century 'thatched' pub (the Red Lion), restaurant and shops, also to a working forge and craft centre.
Mawnan Smith, developed as a distribution centre for goods and produce for the Lizard Peninsula. With the village acting as a staging post for materials that were to be ferried across the Helford River - to the Lizard Peninsula. Support industries developed around transport of goods, with four blacksmiths becoming established in the village by the 1850s- looking after the needs of the 40 plus local farms and the wagons and horses that carried goods to be delivered across the Helford to the Lizard Peninsula. The village took its name from these smith's shops.
The "Old Smithy" has recently been restored by the Anvil Trust, to recreate a working smithy in the village.
Mawnan Smith is close to Maenporth Beach. The beach is a level beach - that opens out into a large expanse of sand at low tide. Maenporth beach has a shop/cafe, with a toilet block.
Mawnan Smith and the Helford Estuary ideally situated in a quiet Corner of Cornwall, with Falmouth town centre, Harbour and Attractions nearby.
The village is close to Trebah and Glendurgan Gardens and the Helford River with many coastal and country walks and beaches immediately accessible. Falmouth is four miles away and home to the National Maritime Museum. It is a working harbour town with an eclectic mix of shops and restaurants, great sea views and starting point for various boat excursions, around the Fal and Helford estuaries.
Trebah Gardens Mawnan Smith, TR11 5JZ

Trebah Gardens offer all year round colour in 25 acre sub tropical garden, with water gardens and water falls. Trebah is best known for its glades of 100 year old Tree Ferns and 18 feet high giant Gunneva (rhubarb). Rolling canopy of Rhododendrons over 2 acre valley of blue and white Hydrangeas leading down to a private beach open to visitors. Children's play area and trails, coffee shop seating 65 and garden and plant shops.
Glendurgan Gardens Mawnan Smith TR11 5JZ

Glendurgan is a stunning Cornish garden set in a wooded valley the descends down to the hamlet of Durgan on the shores of the beautiful Helford estuary.
Glendurgan garden is best known for its laurel maze, planted in 1833 and a firm favourite with children. The gardens started as a private garden in 1820's by Alfred Fox. His descendants handing over to the National Trust in 1962. The garden is set in a sheltered spot off the Helford River in Cornwall; extending through four valleys below the family home built by Alfred Fox.