Location:
Trebah Gardens
Mawnam Smith,
Falmouth,
Cornwall
TR11 5JZ
Tel: 01326 250448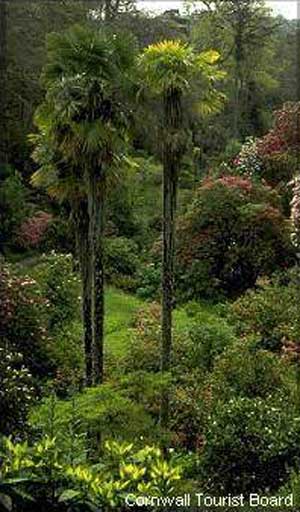 Trebah Gardens

Magnificent 25 acre sub-tropical garden. Water gardens, all year round colour.
25 acre sub tropical garden. All year round colour; water gardens with water falls and Koi Carp, glades of 100 year old Tree Ferns and 18 feet high giant Gunneva (rhubarb). Rolling canopy of Rhododendrons over 2 acre valley of blue and white Hydrangeas leading down to a private beach open to visitors. Childrens play area and trails, coffee shop seating 65 and garden and plant shops.
Waterfalls, rock pools, rare trees and shrubs provide an undulating carpet of colour in this glorious sub- tropical ravine garden. The contrast of exotic foliage and the sheer profusion of remarkable plants in such a dramatic setting provides memorable and remarkable sights all year round.
The gardens at Trebah have a long history, dating back over 150 years, and are listed as one of Cornwall's five great gardens. The Fox family was one of the gardening dynasties that came to dominate horticultural life in Falmouth during the mid-19th century and Charles Fox created the gardens at Trebah after his father, Robert Were Fox of Rosehill, gave him the estate in 1831.
After Charles Fox's death the estate passed to his son in law and eventually to another notable Cornish family who carried on the Fox tradition until the onset of World War 11. After this there followed a period of stagnation and neglect until Trebah was acquired by the present owners, Major and Mrs Tony Hibbert in 1981.
Since then the gardens have been vigorously restored and improved and from the lawns at the top of the garden you view a scene of sub-tropical jungle in a secret valley with tall palms towering above rhododendrons, camellias and vast magnolia trees.
The garden sweeps down south to the Helford river with paths running either side of the valley and a stream running to the bottom of the ravine. Waterfalls and pools, bananas and bamboos, thickets of hydrangea covering more than two acres, the great tree fern Dicksonia antartica and Gunnera manicata are just some of the horticultural delights at Trebah.
Above all, Trebah is a glorious garden for all seasons and the Trebah Trust, a registered charity, has been established in an aim to preserve the gardens for prosperity.