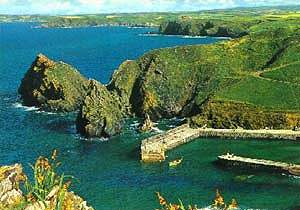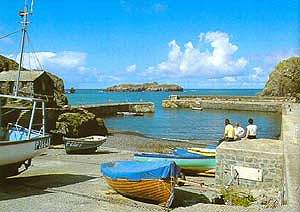 All information given in good faith and for use as guidance only.

Mullion Village - Polurrian Cove (4½ miles)
Start at the 16th century pub, the Old Inn. (There is a car park across the road.) Take the Poldhu road out of the village, past the Atlantic Forge, for about half a mile.
On the left hand side of road is a rough track signposted to Seven Pines and Angrouse Farm. Follow the track, go over a small cattle grid, past the Poldhu Residential Home and then take the coast path on the left side of the road.
The views over Mount's Bay are outstanding and in spring the clifftops are swathed in pink sea thrift, white sea campion and the yellow and orange kidney vetch.
The coast path takes you south to Polurrian Beach. Cross the wooden bridge and follow the path up the cliff. At the top bear right onto another beaten track next to the road. This takes you past the unmanned Coastguard lookout and Mullion Cove Hotel. Cut straight across the parking area and head towards a cannon.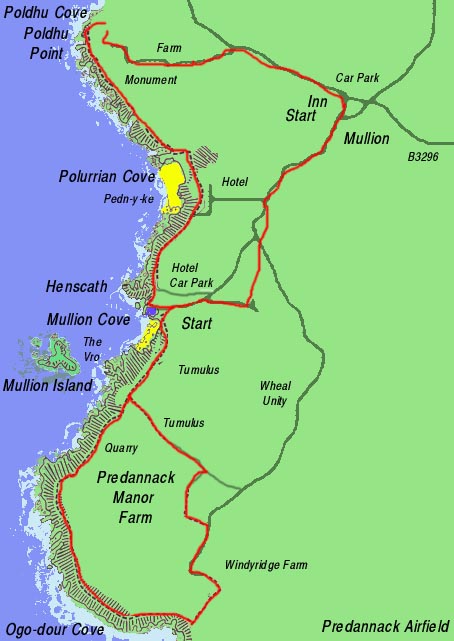 Take the steep cliff path down into Mullion Cove, also known as Porth Mellin. The sea stacks called Henscath and Scovarn to the right of the path are of serpentine. In contrast, the surrounding cliffs are of richsoiled schists, while the beautiful Mullion Island is of a dark, flinty rock called chert and lava, the latter thrown up by submarine volcanoes.
Take the road out of Mullion Cove, past the gift shop and 100 yards beyond take the track on your right, signposted Polpeor Self-Catering. Follow the track to the top of hill. Take the small path on your left and turn left at the road. After 50 yards take the footpath on your right.
Walk diagonally across the field. This brings you out by a post box; turn right and follow the road into Mullion. Pass the Mount's Bay Inn and carry on down the road to the Old Inn.