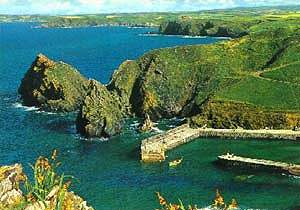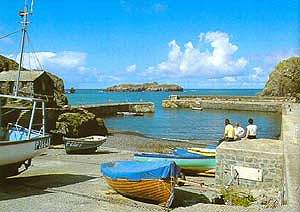 All information given in good faith and for use as guidance only.

Mullion Cove - Predannack
Mullion Cliff, to the south of the harbour, can be reached via the coast path, on your right as you take the road out of the cove. The cliff top is owned by English Nature, the government's conservation watchdog and protector of wildlife. The Cornish Heath, so abundant here, is found nowhere else in Britain and is at its best in late summer. Continue along the Coast Path. You will climb over a wooden stile before descending into a small valley.
Beyond this the path is fairly level, though wet in places, even in summer. Offshore is Mullion Island, home to a large colony of breeding seabirds. As you walk along this stretch of cliff, you may see Shetland ponies or Soay sheep. These have been introduced here by English Nature to keep coarse grasses, brambles and gorse, under control. Without this grazing, the rarer plants would be smothered.
Pass through a kissing gate and cross over the wooden stile into the valley. You will see a group of farm buildings on your left. You reach these by taking the first path on your left on the opposite side of the valley, crossing a stone stile and then turning left onto the stony track. After these buildings, follow the tarmac road. At the end of the third field on the left is a public footpath.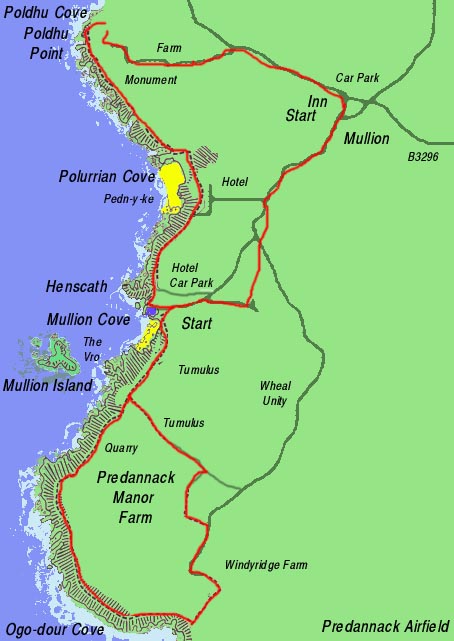 Follow this through two fields, before entering a lane. Cross the stone stile on the right and the next field before turning right onto the road near Predannack Manor Farm. At the corner, turn left onto the track to Mullion Cliff.
This will bring you out onto the cliffs above Mullion Cove, where your walk began.