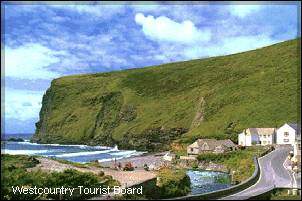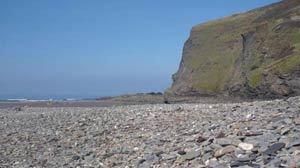 All information given in good faith and for use as guidance only.

Loop 1
Crackington Haven is a geologist's paradise as the sandstone and shale cliffs have been contorted by great earth movements into anticlines (upward folds) and synclines (downward folds). Erosion is still active as rocks fall from overhanging cliffs and rivers flood, widening the valleys and carrying vast quantities of sand and mud out to sea.
From the bridge, face the sea and follow the coast path to your left. The route is undulating, following the cliff top but dipping to waterfalls as streams cascade into the sea. Soon the path divides and a short detour leads you up Cambeak, a dramatic headland.
Head along the coastal path towards the distant beaches. Just before a line of inland cliffs, look out for a left hand path which leads to a car park for the Strangles beach and road. If you were to go straight on you would come to a track leading down to the beach.
At the road turn left and carry on past the farm and holiday accommodation at Trevigue. After a few hundred metres opposite Woodgate farm and adjacent to a few houses is a signed footpath into a wooded valley. At the valley bottom, turn left towards Haven and continue besides the river. The shape of this valley floor was changed dramatically during the floods of August 2004.
Cross a footbridge, turn left at a junction with a path. Cross a second footbridge, go through a gate and follow a track back to the main road, turning left back to Crackington Haven and a good cafe.
LOOP 2
With the Inn on your right follow the road back up the valley for a short distance. Look out on your left for the coastal path, signed to St Genny's church. The path rises fairly gently to the headland of Pencarrow Point, well worth the climb for the fabulous views along the north Cornish coast.
From the main coastal path, head inland, through a kissing gate and gate, following the signs to St Genny's church. Follow a field boundary on your left and soon the church appears nestled amongst the tiny settlement of St Genny, over looking the sea.
With your back to the church gates turn left along the lane and then first right down a steep lane to the main road. Cross the road, continue down the lane but before the valley bottom is a footpath to the right, signed to Crackington Haven. Lovers Lane, a leafy track leading back to the main road and your car.