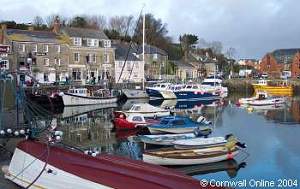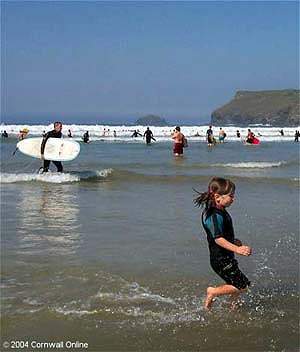 All information given in good faith and for use as guidance only.

After pottering a while around Padstow start your walk at the northern end of the harbour. Look out for the a well trodden, wide footpath marked by the acorn symbol of the coastal footpath which leads past where the regular ferry docks from Rock...the acorn symbol will be your guide until Trevone Bay.
Head northwards towards Gun Point leaving the crowds behind enjoy extensive views across the Camel estuary and dunes towards Rock. Steps lead down to the beach at St George's Well and if the tide is really low take a short cut across the sands to the old lifeboat station at Hawkers Cove.
From here the path ascends slowly to Stepper Point from here across the estuary the surfing haven of Polzeath is in full view and to your west is America.
Head round the corner up towards the stone built Daymark Tower. Built in the times if the Spanish Armada when fires were lit along the coast to warn of impending invasion.
On a windy day the next 2km (1.2 miles) are a dramatic scene, the coastal path hugs the high cliffs. Waves crash 10 feet below in Butter Hole whilst out at sea waves crash high over Gulland Rock.
The path cuts inland at Gunver Head, descending steeply to a stream crossing and zigzagging up past waterfalls. Catch these on a blustery, sunny day to see rainbows in the spray.
From now on the walking is gentle through pasture down to Trevone Bay. This stretch of coast is a geologist's paradise. Look out for layers of shiny marble and limestone in the cliffs south of Gunver Head. Looking towards Trevone you cannot help but notice the Round Hole. An enormous blowhole worn away by the sea as it tunnelled through the cliffs below, eroded by the waves as they crashed through its narrow entrance on a stormy day.
After a paddle and a play on the sands of Trevone beach take the narrow road which bears sharp left away from the beach. Familiar views reappear you head north again up a steep incline. The road soon flattens out, ignore turning to the right and left . On reaching a junction at the small hamlet of Crugmeer, turn right and then left by a post box, after 100m the path turns right, over a hedge and through fields.
A barren landscape offers magnificent views and you can almost see your footsteps from earlier in the day. Follow the path for about 1km (0.6 miles) until reaching a narrow tarmac road. Turn right saunter down into Padstow, passing under a bridge and admiring the Tudor mansion of Prideaux Place. Take any left turn to bring you back to the harbour your starting point and a much-deserved cream tea.