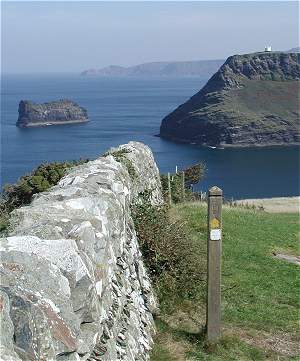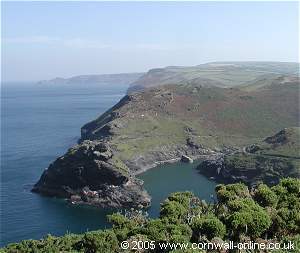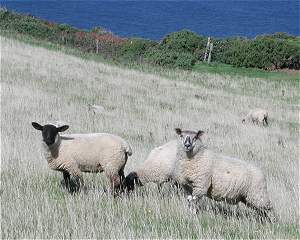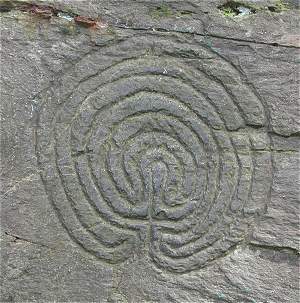 All information given in good faith and for use as guidance only.

From the main car park in Lower Boscastle walk towards the harbour, cross over the bridge and follow the main road for a short distance, rising up above the harbour. You soon join the coastal path and set to enjoy the fabulous views towards Meachard island at the mouth of the harbour. Look out, on your left, for Forrabury Common, an ancient system of strip farming. To your right a footpath beckons you up to the coastguard station .... look out for dolphins.
Carry on along the coastal path for roughly 2 km (1.2 miles) until you see a sign for Trevalga. To shorten the walk cut inland to Trevalga church and follow the directions at 'A'.
Alternatively continue along the coastal path for another 2 km (1.2 miles) to Rocky Valley, a delightful wooded valley shrouded in Celtic mysticism. The signed and well trodden track follows the right hand bank of the stream, crossing over to an abandoned mill and site of Celtic rock carvings.
After passing through the grounds of a restaurant turn left and follow the road for a short distance past St Pirans Well and the village of Trethevey. Just after the entrance to a campsite take the signed public footpath to your left. Go diagonally across to the far corner of the field, to join a track leading to Tervalga church.
'A' Follow the footpath around the back of the church across a lane, hrough a gate and over more fields to Welltown Manor. On reaching the main road turn left and left again at a bench. To reach the church take the next left and after a sharp right hand the church comes into view.
To reach refreshments continue down past the church , take the third turning to the right, a narrow lane, sign posted up to the old village. Alternatively you can walk downhill back to the harbour and the start of your walk.
For a longer walk continue half way up through the village,(a good time for refreshments) to the main road B3266. Turn left and after a few hundred yards turn left down a quiet and leafy lane signed towards Minster Church. Minster Church is nestled in Minster Wood. Your return footpath is through a gate immediately after the church, follow the signs to Valency Woods. The path descends to the valley floor, turn left and follow the Valency River (responsible for the devastating flooding of August 2004) back to the harbour.