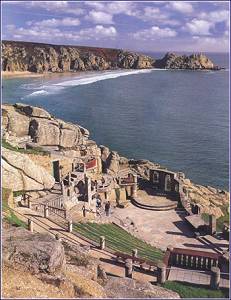 The Minack theatre overlooking Porthcurno Beach
St Buryan
There is evidence that the present church lies within the site of an Iron Age enclosure. Christian use dates from the 5th Century when a small chapel may have been established in the name of the Irish "saint" Buriana. The first substantial church was built in the 10th Century on the order of the Saxon king, Athelstan, but the present building has evolved through substantial rebuilding and restoration in the Norman, medieval and Victorian periods. The impressive tower is a landmark, visible from far out to sea as much as from the surrounding countryside.
The interior of the church has great serenity, as befits a place of Christian worship. It has many fine features including a splendid rood screen, much restored, but true to its medieval original and a glorious mosaic of intricate detail and motif. St Buryan has the heaviest peal of Six Bells in the World.
Throughout St Buryan parish there are stone crosses of the "Celtic Christian" design, at roadside sites and road junctions. The Saxon King Athelstan, granted a charter of extended sanctuary to St Buryan enabling wrongdoers to remain in safety within a mile or so of the church, rather than within the normal sanctuary of the church environs only. The many ancient crosses that still survive around St Buryan may have been sanctuary markers.

Lamorna Cove
A delightful approach down the deeply wooded Lamorna Valley leads to the famous Lamorna Cove and the glittering sea of Mountís Bay. Nature has taken back this centre of Victorian industry where quarrying for high quality granite began in 1849.
A timber jetty was first used to load the granite onto ships but this was replaced with a stone pier in 1854. Heavy seas often delayed loading the stone and threatened moored vessels. This raised the price of Lamorna granite and sea transport was abandoned in favour of difficult but regular transport overland to Penzance.
The quarries ceased production in 1911. Today all is peace and beauty in Lamorna. In the early 1900s, the areas exquisite landscape attracted painters of distinction, such as Harold and Laura Knight, Lamorna Birch, Dod and Ernest Proctor and Sir Alfred Munnings.