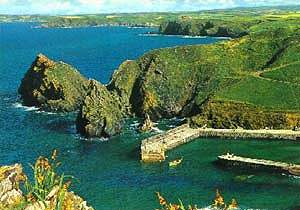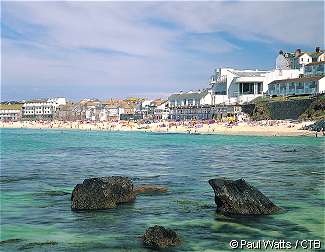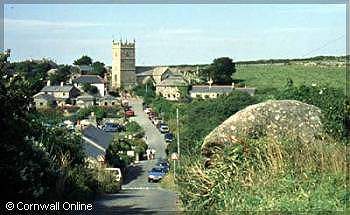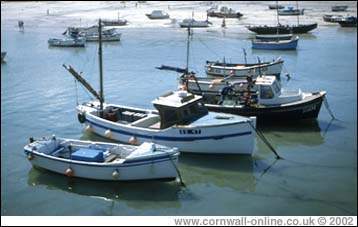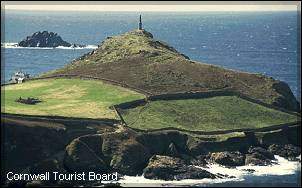 All information given in good faith and for use as guidance only.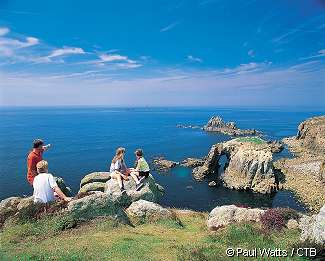 St. Ives is a lovely place to visit, especially when the weather is good. There is a tremendous amount of history in the town and its buildings.
A thriving fishing port for generations, this is, as in other places in Cornwall and elsewhere, now in decline but there are still those who make their living from the sea.
There are the usual tourist attractions in and near the town. St. Ives is more pleasant to stroll around than some Cornish resorts in high season and its narrow streets, although certainly not made for the modern motor car, retain an air of the bucket and spade holiday.
The coastal walk westwards from here is along a well trodden path for a while, and, as is usual, when the first couple of miles and the average walk of the average tourist is behind you, it is a very pleasant stroll with some fine scenery. Carn Naun at over 300 feet above sea level, not only provides spectacular views but also the first steep descent of the stretch. Beyond this the going gets tougher, with boulder fields to negotiate, a lot of ups and downs and a sometimes indistinct path from here towards Zennor. The isolated rocks off shore here are The Carracks.
Zennor village provides all the required amenities of the long distance walker, a good pub lunch and a pint and moving on after this can be a struggle. So before doing so, why not visit, if time permits, the Church and the Wayside Museum. The former with its carved bench end describing the legend of the famous Mermaid of Zennor, who is said to have lured the local Squire's son to the deep with her singing. The latter has a quite fascinating collection of artefacts and memorabilia from bygone Cornwall down many centuries.
The next prominent headland is Gurnards Head. Complete with remains of 2nd century BC Iron Age castle.
Another is not far off, at Bosigran. This area nowadays is more home to rock climbers than anyone else. The sheer cliffs and ledges make for some superb climbs, but definitely not for the untrained or sneaker-shod tourist.
A little further along and Pendeen Lighthouse comes into view. Built in 1900, it has blinked out a warning to thousands of ships to avoid the treacherous rocks and cliffs of the near vicinity. Despite this though, tragedy is never far away. Perhaps the most tragic was the loss in this area of the St. Ives Lifeboat and seven of her eight crew in 1939. In that same January gale the collier Wilston was also lost, with all hands.
Looking down now on a bright Summer day at the tranquillity of the scene, with a couple of Seals basking on the Kenidjack rocks, it is difficult to imagine such terror as can be wrought by winter gales. With more Iron Age neighbours here also.
Moving ever westward, the mining area around Levant and Botallack is soon reached. Levant produced both Copper and Tin from a shaft up to 2,000 feet deep and a mile out to sea. Decline led to closure in 1919, precipitated by a tragic accident, which claimed the lives of over 30 men. The National Trust now operates a steam beam engine here, a lovingly restored monster over 150 years old. I remember once taking a young French guest here sightseeing and was surprised when the elderly guide, one of the "Greasy Gang" I think they called themselves, proceeded to explain all the workings in a wonderful French accent, full of Cornish lilt and expression. Geevor Mine is also to be found here, one of the last two working tin mines in Cornwall up to its closure. Now a museum, it offers underground tours and another fascinating history lesson.
More mining activity is evident at Cape Cornwall, the distinctive chimney on the headland being over a ventilation shaft. Apparently it was built to increase the draught in the boilers but was to prove too successful and the excessive draughts actually put out the fires rather than just fanning them. It was, until relatively modern times, thought to be further west than Land's End and thus the most westerly point of England but Land's End beats it by just a few hundred paces. It is the only "Cape" in England and Wales, Scotland boasts but one, Cape Wrath, way up in the far north west of the country.
A little further on and the wide expanse of Whitesand Bay is reached. A good surfing and bathing beach, but please take note of the Lifeguards and the warning signs. They are not there just to make the place pretty, or even cluttered.
Sennen is the village at the far end of the beach and at the end of the village is another reminder of the need for vigilance when using the waters around this peninsula, the Sennen Lifeboat Station. Totally dependant on voluntary contributions, the RNLI has been achieving unbelievable acts of bravery and seamanship now for over 175 years. Spare a thought and some silver coinage for them next time you see a collecting box or a flag day. You never know when your contribution may be needed to save a life, even your own.
On and up the next cliff to view a magnificent seascape. High cliffs, soaring gulls and, usually a fresh wind which last saw land when it left the coast of the USA. Fresh to strong usually, often gale force but always providing an ever changing scene. The path from here to Land's End is extremely well trodden. Perhaps too well trodden and eroded in places. A new cycle path, starting here and ending up in Bude on the north Cornish coast provides good "tarmac" walking, if that's what you want.
As one of the guide books I read when planning this stage said of Land's End: "best to look out to sea and keep walking".
When you reach Land's End you have done about 24 miles from St. Ives with a few pauses to take in the views and the history of the stretch. You have reached the most westerly point on the English mainland. Time for a First and Last Pint to celebrate your arrival?