Cornwall Online Support Pages
Cornwall Online Customer Support
Cornwall Holiday Cottage and B&B website design and hosting
NEW OFFICE NUMBER - as from 02 March 2018

We have updated the accounts to VOIP. Please telephone the office between 9:15am and 02:30 pm using 01579 557343

Please contact the Office via email info@internet-trading.com

Need to make Advert Alterations?
To contact the office, please call 01579 557343, we are always willing to help. Or you may find an option below that answers your query.
UPDATES
UPDATE YOUR PROPERTY DETAILS
e.g. maximum sleeping capacity, internet access. These details will be used for our holiday searches - Click Here
ALTER YOUR TARIFF - Click Here
UPDATE YOUR INTRODUCTORY TEXT
~ this is the the text that appears on the towns listings - Click Here
PAGE ENHANCEMENTS
SPECIAL OFFERS AND LATE AVAILABILITY ADVERTS
~ opt for an additional advert on these pages to promote availability - Click Here
ONLINE AVAILABILITY
~ calendars for both Self Catering and Bed & Breakfast Accommodation - Click Here
EDITABLE PANEL
~ a section of the webpage which allows you to add and amend text - Click Here
USEFUL INSTRUCTIONS
How to use your Editable Panel (if enabled) - Click Here
How to use your Online Availability Calendar (if enabled) - Click Here
How to use your Booking Calendar (if enabled) - Click Here
DOMAIN NAMES AND E-MAIL
DOMAIN NAME REGISTRATION

Domain Name Registration - will register Domain Names on your behalf (on the understanding that you have read and agree to be bound by the Nominet Terms and Conditions document). Please contact the office for details.
Before we register a Domain Name on your behalf, we require that you read the NOMINET Terms and Conditions, and e-mail Internet Trading a confirmation. CLICK HERE

ITS Webdesign - , charges £35 per year or part of a year for each domain registered (please note that this service is for Cornwall Online & Devon Online customers only).
The Domain is pointed at your advert on Cornwall/Devon Online, or at an IP address of your choosing. We can also offer e-mail forwarding and Virtual Server facilities. Please contact the office for details.
Email problems - Domain issues
If you feel that your email address has been "hacked" or you are recieving large numbers of unsolicited "Junk " e-mails or Spam, please contact martin@internet-trading.com ( c.c. to paul@internet-trading.com ), or telephone the main office at 01579 557343
For general e-mail issues, adding accounts, changing passwords, etc. please e-mail info@internet-trading.com or telephone 01579 557343
For domain issues - redirects, page updates, please e-mail info@internet-trading.com or telephone 01579 557343
We normally aim to update within one working day.
Customer Complaints
if you have any problems with the service we provide, please e-mail info@internet-trading.com. Please include your details and a summary of the problem that you have encountered. In Urgent cases, please telephone the office on 01579 557343.
On receiving a complaint, we will;
reply via e-mail to confirm that we have logged the issue.
open a file on the issue and collect relevant information.
nominate a neutral party to oversee the issue and report back to you as quickly as possible.
We aim to deal with complaints within one working day of receiving notification. Most complaints are resolved within five days.
Should you be unhappy with the response received, please telephone the office on 01579 557343. We will set up a review meeting, with the management team, to resolve any outstanding issue.
Links
Pat Testing Service
Carbon Monoxide Aware Register
Fire Safety Laws and Regulations
Lorica Insurance Brokers

Cornwall PAT Testing Services
As the owner/manager of holiday accomodation you have a duty to ensure that all your employees and especially your customers are safe from the electrical appliances in your buildings.
Cornwall PAT Testing is a professional electrical safety testing business offering a low cost, quick and reliable PAT testing service.
15% Discount for Cornwall Online / Devon Online Customers!!!
Based in Callington, Cornwall, we provide a competitvely priced service to fit into your schedule, including an out of hours service. You choose a convenient time and we turn up and test.
We supply you with a printed test result and a test certificate instantly plus we can also provide you with an electronic copy via e-mail. We will also remind you when your test is due next year!
Please Contact us in the office to discuss your needs -
call 01579 557343 or for further details visit
www.cornwall-pat-testing.co.uk
www.devon-pat-testing.co.uk
for a free on online estimate.

Lorica Insurance Brokers
Lorica Insurance Brokers are based locally, and focus on working with businesses based in Cornwall and specialise in giving insurance advice to the leisure and hospitality sector. They advise a wide range of business types from Hotels, Guest Houses and restaurants throughout Cornwall.
Lorica's team are experts at negotiating with insurers to get you the right deal without obligation, are happy to reveiw your insurances.
If you would like to contact Lorica Insurance Brokers for information please visit
www.loricainsurance.com
or contact Joel on
TEL: 07585 901961 EMAIL: jrusson@loricainsurance.com

Fire Safety Laws and Regulations
The Regulatory Reform (Fire Safety) Order 2005 (FSO) replaced over 70 pieces of the fire safety law when it came into effect in October 2006.
The order applies to all non-domestic premises in England and Wales. This will include all common parts of blocks of flats and houses in multiple occupation (HMOs).
The Fire safety order applies to you if you are:
responsible for business premises
an employer or self-employed with business premises
responsible for a part of a dwelling where that part is solely used for business purposes
providing accommodation for paying guests
The responsible person must carry out a fire safety risk assessment, implement and maintain a fire management plan as under the FSO. A simple 5 step fire risk assessment check list, will offer you further information. Click here for the checklist.
There are also a series of guidance documents available, which include more detailed advice and guidance on the implementation of a fire risk management plan. Click here to download the plan. For more information and guidelines click here to visit www.communities.gov.uk/firesafety Cornwall-Online working with Cornwall Fire & Rescue Service Making Cornwall a safer place in which to Live, Work and Visit. www.cornwall.gov.uk/fire
Register Your Camping and Caravan Site
on the Carbon Monoxide Aware Register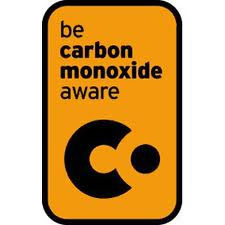 Following the recent carbon monoxide (CO) incidents involving campers 1, Cornwall Fire and Rescue Service are working on a CO safety campaign, that will help enhance the safe reputation of Cornwalls caravanning and camp sites.
To become a CO aware site, sign up to the register using the online form or by phone on 01208 72312.
Once registered, your campsite will be provided with a starter pack containing a window sticker, poster to display in your reception area and a small supply of CO Aware flyers for all new holidaymakers informing them of the dangers of CO and how to prevent being poisoned.
If you require anymore information then please contact the prevention team on 01208 72312 or email us at prevention@fire.cornwall.gov.uk