ads
Cornish History  
Cornwall Online Resources
External Links
The Cornwall Family History Society Cornwall Family History Society aims to become a centre of excellence encouraging research in Cornish social and family history. An ongoing process of transcribing and indexing of original records is maintained by society members, resulting in our fine database of over 4.3 million entries. Our research library in Truro, Cornwall is open to all, offering a means of contact and information exchange. We are experienced in family history research and enjoy assisting and informing those who are just starting out on their ancestral trail.
Ambra Books If you are interested in Cornish books try Ambra, who offer a bespoke service supplying Antiquarian and Secondhand Books, relating to Cornwall, Devon, Dorset, Gloucestershire, Somerset, Wiltshire
BBC - The Cornish: A Neglected Nation? Professor Mark Stoyle. For centuries Cornwall retained the marks of a separate country - the Cornish people having their own language, style of dress and folklore. Yet by 1700 there were only 5000 Cornish speakers left in the land. Dr Mark Stoyle explains how it happened.
Timeline of Cornish History Find out more about Cornwall's history through the Cornish timeline. The timeline was compiled from books and information available at the Cornish Studies Library.

The Trevithick Society is one of the oldest industrial preservation societies in the UK, having been founded in 1935 to save the Levant beam winding engine from being scrapped. The Society is based in Cornwall but has interests in Cornish industry wherever it may be.
Cornwall GenWeb part of the WorldGenWeb Project and is the regional resource page for research in Ireland and the United Kingdom. Cornish-American Connection, Cornish Ancestors, Cornish Ancestors and Descendants, Cornish Extended Family, Cornish Family Histories, Cornish Family Tree, Cornish Genealogy and Social History Research , Cornish Genealogy, Cornish Genealogy Database, Cornish Genealogy Resources, Cornish Genealogy Web Directory
Cornwall Record Office Collections Cornwall Record Office (CRO) provides a professional archive service for Cornwall. Its main purpose is to ensure that the archives relating to the people, places and organisations of Cornwall are preserved for the future and made available, where possible, for public consultation.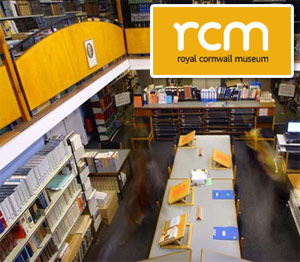 The Courtney Library - Royal Cornwall Museum. The Library houses around 150,000 items (i.e. printed and manuscript sources, photographs, engravings, ephemera etc) including: A core collection of printed books and periodicals covering the history of Cornwall from the prehistoric to modern period, Substantial collections of archives of Cornish families, Original files and microfilmed copies of local and regional newspapers, General reference books and periodicals including fine art, archaeology, history and subjects relating to the collections in the RIC's Royal Cornwall Museum and Art Gallery, Our extensive reference collections are always available on site