Camel Creek Adventure Park is located between the popular holiday towns of Newquay and Padstow.
With exciting new attractions, dash to Cornwall's Camel Creek Adventure Park a vibrant and welcoming Cornish visitor attraction - open all year-round, offerine a unique interpretation the legends of the area. Camel Creek Adventure Park creates great adventures and days out for the whole family. The Park is an all-weathers' attraction and open all year round, with annual activities reflecting the seasons.
Nestled in 111 acres of Cornish countryside, Camel Creek is a haven of family-friendly rides, giant play areas and animal encounters. With Cornwall's only 5D Simulator and outdoor undercover play, the Adventure Park is an all-weather attraction suitable for the whole family, rain or shine.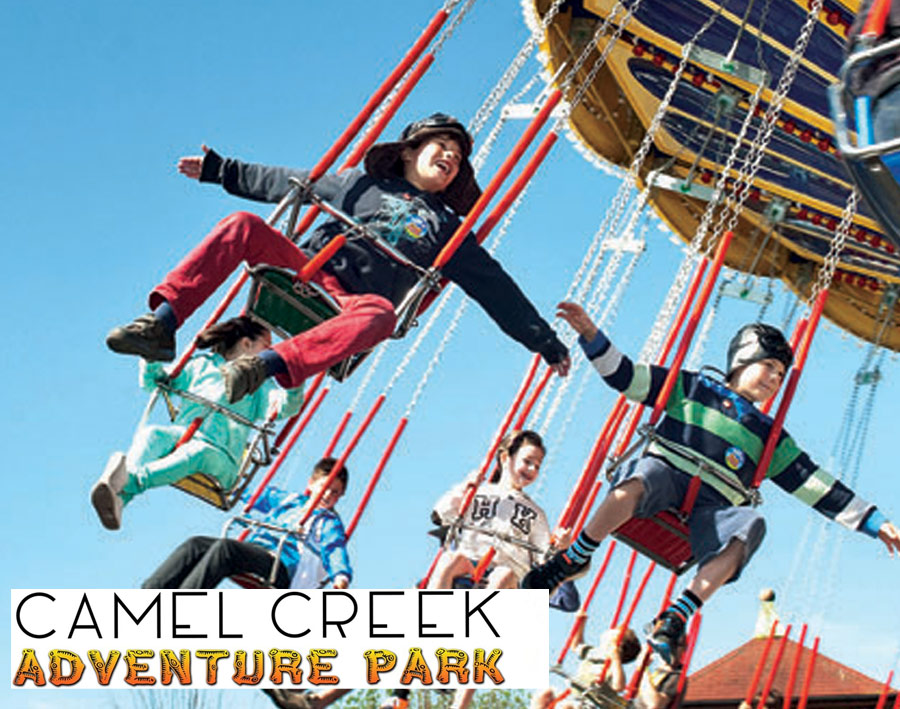 Camel Creek Adventure Park!
A meerkat enclosure, reptile house, bug wall and stunning shire horses to name but a few, where else but Camel Creek Adventure Park! With an array of creeky critters and amazing animals, you will find yourself overwhelmed with amusement and entertainment. The friendly animal team is on hand to deliver snake-handling, educational talks and pony rides..
Thrills and windmills, enjoy views over the park whilst spinning on the nine-metre tall flying carousel ride, Wave Rider. Splash down with Raging Rivers or Thunder Falls. Sail the seas on the Pirate Ship or plummet to earth on 'The Beast'. Camel Creek also has 40,000 square feet of heated indoor play, 14 mechanical rides and Swampy and Dina land which perfect for those toddler's keen to explore and have fun..
In addition to Cornwall's greatest Adventure Park, planning permission has been granted for a new resort comprising 106 villas, 46 luxury tree houses and 84 courtyard houses. The resort will also feature restaurants, an Olympic sized swimming pool and conference facilities..
And animal lovers shouldn't leave without meeting the region's cutest furry friends or gentlest 'Shire' giants; who all live at Cornwall's Camel Creek Adventure Park .