Westcountry
Short Oval Racing
St Day, Cornwall
Fun for all the family
Enjoy a day, watching the racing, come rain or shine.
Short oval motor racing is a fun day out for all the family. There is unlimited access to the pit area, hot and cold refreshments, and spectators are invited to bring a seat or a blanket, to pitch up on the spectator bankings and view the action.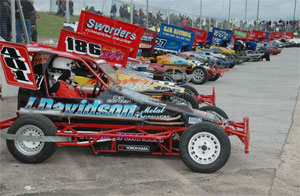 Races are usually set up, contested and cleared at a rate of approximately four per hour, so a full race meeting which typically consist of between 12 and 15 races, will last between three to four hours.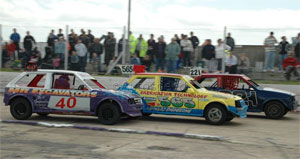 Stock Rods
For a 1.00pm start time, there is pre-meeting practice between 11.30am and 12.30pm. The Grand Parade is at 12.50pm, and the first race at 1.00pm.
As for the types of cars that race, BriSCA F2 Stock Cars are fast, skillful and spectacular;
National Bangers deliver huge crashes;
Saloon Stock Cars are rugged, old-fashioned type ironed up cars;
Stock Rods are non-contact (like racing through rush hour traffic);
Bangers race, spin and often crash; and the Ministox are for juniors, with the stars of tomorrow aged between 11 and 16.
St Day, Cornwall. TR16 5HU, 10 minutes from Redruth - 15 minutes from Truro - 15 minutes from Falmouth
Size: 350m tarmac oval with plate steel safety fence.
Facilities: Access to pit area and limited arena parking. Hot and cold food.