Location:
Caerhays Castle and Gardens
Gorran,
St Austell,
Cornwall,
PL26 6LY
Tel: 01872 501310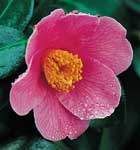 Camellia hybrids
C. x williamsii
During the1930s J.C. Williams crossed Camellia japonica with the newly introduced species C. saluenensis.
The hybrids that he produced had the hardiness of C. japonica but with an exceptionally free-flowering nature.
The first few seedlings to flower were named C. x williamsii 'JC Williams' and since then all hybrids between these parents have the familiar name C. x williamsii.
The C. x williamsii hybrids grow to about 5m high and are well suited to most gardens. They shed spent flowers, unlike some varieties of C. japonica, and are able to re-cover themselves in new blooms after periods of severe weather.

The imposing edifice of Caerhays Castle has at first glance the appearance of a Norman stronghold. In fact the building was in fact built by the famous architect, John Nash during the 19th century for John Bettesworth Trevanion. The 21 year old John Bettesworth Trevanion inherited the estate in 1801.
The land had been in the possession of the Trevanion family since 1390. The fashionable architect, John Nash, was employed by John to create a substantial home for the family to live in; but the subcequent expense of employing such a prestigious architect and the ongoing building costs forced the family into heavy dept.
In 1840, the then financially ruined family fled to Paris, and the bailiffs moved in to sell off what possessions they could. Today Caerhays is one of the few remaining examples of Nash built castles.
The buildings at Caerhays fell into disrepair until it was bought in 1853, by Michael Williams of Scorrier and Burncoose, a Cornish Member of Parliament, prominent mine owner and industrialist. Michael Williams, together with his son John (John Michael Williams , set about the restoration of the castle. The house had been unoccupied for 13 years, and had not been watertight for a substantial part of that time, so the Williams had to initiate a very extensive programme of repairs. The hectic lifestyles of both Michael Williams and his son John meant that they spent very little time at Caerhays as they were both active in mining, smelting and banking with large amounts of time being spent in Swansea and London.
John Williams died in 1880 and his son - the then 18 year old Cambridge University student - John Charles Williams "JCW" inherited Caerhays. The gardens at Caerhays had had little attention lavished upon then and unfortunately they missed out on the great plant boom in English botany, created by influx of seeds from the trips between 1840 and 1855 to the areas around the Himalayas.
J.C. Williams started to remedy this shortcoming in 1885. He had purchased Werrington Park, near Launceston, which had a number of greenhouses. J.C. Williams first gardening interest may have began from the purchase of this estate.
He married in 1884 and again the house here was restored and altered. In 1892 he became a Member of Parliament - a lifestyle which he detested - retiring as soon as the next election was announced in 1895. Whilst at the House of Commons, the Royal Horticultural Society in near by Victoria Street was making substantial progress in the growing and hybridising of daffodils. J.C. Williams early contact with these developments due to the proximity of the two establishments started his life long interest in hybridising.
This is also a time when J.C. Williams may have met Sir Harry Veitch of Veitch's Nursery; a firm that specialised in sending plant Collectors to the far corners of the World to looking for new plant species to grow in Britain. Veitch had sent a collector (Ernest Henry Wilson) to Central and Western and approached J.C.Williams when he was looking around for suitable sites to plant seeds from the expedition.
Caerhays's long history of testing and growing new plants from China began in 1903 the first batch of seed arrived. Some of the original Wilson introductions are still growing in the grounds at Caerhays. J.C.Williams had a major impact in the hybridisation of Daffodils, new Camellias and of new Rhododendrons. The partnership that he forged with E.H..Wilson and later with George Forrest, channelled their new introductions directly into Caerhays and Werrington - making the important plant distribution centres.
Caerhays Castle Gardens are a special place for lovers of Camellias, Magnolias and Rhododendrons. The relationship of J.C.Williams with E.H..Wilson and George Forrest and the pioneering work on breeding and propagation led to the creation of a stunning garden stretching over a 60 acre site. The history and development of which can still be traced as you walk through Caerhays' informal woodland garden. The garden overlooks the sea and is home to the x williams camellia hybrids and the huge, Asiatic magnolias, which are in full flower between March and April.