KORU KAYAKING
Joining one of Koru Kayaking's guided kayak adventure allows you to discover the hidden Cornwall which is only accessible by kayak. The incredible scenery has to be seen to be believed!
Our Frenchmanís Creek Kayak Adventure, on the south coast involves paddling alongside beautiful Oak woodland with peaceful Creeks, where you can discover ship wrecks and secluded beaches. The calm waters of Frenchman's Creek are an amazing way to take in the splendour of the South Coast of Cornwall, while enjoying the local wildlife.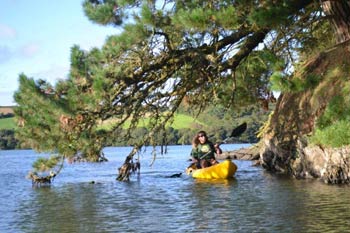 Frenchmans Creek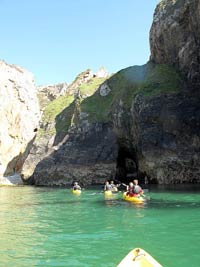 Our North Coast Kayak Adventure launches from Trevaunance Cove paddling alongside stunning colourful cliffs, rock gardens, arches and caves make for a wonderful experience. There is also an abundance of wildlife from grey seals, dolphins, basking sharks, sun fish, shags and cormorants to name a few animals that have joined us on our tours!
No experience is necessary and we use tandem Sit-On Ocean Kayaks, which are stable and easy to use. We can take a maximum of 6 people on a single adventure in 3 tandem kayaks. Locals and tourists alike have been amazed by the tours, many coming back time after time!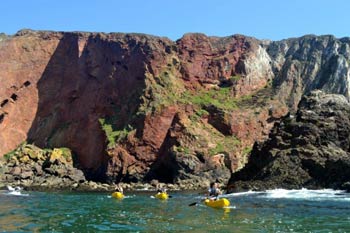 Stunning Guided Kayak Adventure No Experience Necessary Tandem & Single Sit-On Kayaks Experienced Guide Basic Instruction and Safety Briefing Beautiful Scenery Ship Wrecks and Secluded Beaches Amazing wildlife Merchandise and HD Videos available on the day
Safety
Your safety is our number one priority and our aim is that you have a fun but safe adventure. On the morning of the tour the guide will check weather conditions are suitable for the adventure.
Experienced Guide on all tours
All participants given safety briefing
Modern and well-maintained equipment
Guide has waterproof mobile phone and marine radio
Koru Kayaking is a member of Canoe England
Children to be accompanied by parent