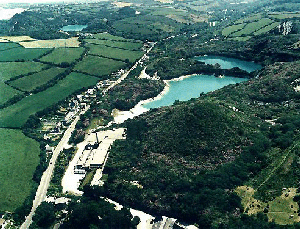 Wheal Martyn China Clay Heritage Centre
Carthew
St Austell
Cornwall
PL26 8XG


Tel : 01726 850362
All information given in good faith - for use as guidance only
The Wheal Martyn China Clay Heritage Centre is a fabulous museum detailing the history of china clay extraction in Cornwall since its discovery by William Cookworthy in 1746.
China Clay, which is simply decomposed granite, is found in very few places around the world and the deposits in Cornwall and Devon are the largest globally. The clay is used mainly in the process of papermaking, but also in the manufacture of paints, porcelains, dyes and cosmetics.
By 1850, 7000 men, woman and children were employed in the St Austell clay district in the extraction, transportation and exportation of the clay. Today, production methods have changed considerably due to advances in modern technology, but the industry still remains one of Cornwall's largest employers.
The Wheal Martyn China Clay Heritage Centre offers an interesting and educational insight into one of the most important industries in Cornwall. With audio-visual displays and a fascinating trail through the 19th Century clay works with working water wheel the centre is a great day out for all the family.
The centre also has a children's play area, an exciting adventure trail for the over tens and scenic picnic areas as well as a tea room and gift shop.