Ricart's Plan of Bristol 1479.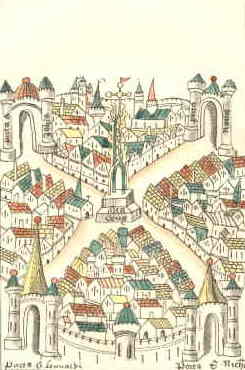 Ambra Books
[ Ivor Cornish ] -- Est. 1972.
 22 West Shrubbery,   Redland,   Bristol   BS6 6TA,   U.K.
Telephone :- ( 0117 ) 9076899
Fax :- ( 0117 ) 9741962
Email :- ambra@localhistory.co.uk
Cornwall -- Devon -- Dorset -- Gloucestershire -- Somerset -- Wiltshire
I specialise in Buying and Selling Antiquarian and Secondhand Books,
relating to the above counties, and issue regular catalogues.
The catalogues contain a wide range of subjects relating to each county,
and include works on history, (local, industrial, mining and social)
topography, genealogy, archaeology, geology, agriculture and natural history.

Selection of items I wish to purchase.  

Lesley Aitchison's selection of Maps,
Manuscripts, Ephemera, Views etc. for sale.  
---

If you wish to receive by email my WEST COUNTRY catalogues, or if you have any specific items that you are looking for,
or that you wish to dispose of, please either complete the form below, or email me at:- ambra@localhistory.co.uk

---
For further information please contact Ambra Books email: ambra@localhistory.co.uk
---

Cornwall Online
---
Back to the Top